Machinery's Handbook 28th Edition Toolbox -Text Only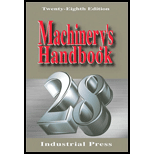 Celebrating nearly 100 years as "The Bible of the
Mechanical
Industries", the 28th edition brings together volumes of knowledge, information and data gathered, revised and improved upon from experts throughout the mechanical industries. Extraordinarily comprehensive yet easy to use since it premiered,
Machinery's Handbook
provides mechanical and manufacturing engineers, designers, draftsmen, toolmakers, and machinists with a broad range material, from the very basic to the more advanced. It has always, and continues to provide industry fundamentals and standards while it moves into the 21st century with material reflecting technological advances and offering vast editorial improvements, making the 28th Edition the best tool . . . ever!
By Oberg, Jones, Ryffel, McCauley and Heald Eds. - Industrial Press, Inc. (00) - Paperback - ISBN 10 0831128003 - ISBN 13 9780831128005
Read more on:
Machinery's Handbook 28th Edition
.