CRC Handbook of Chemistry and Physics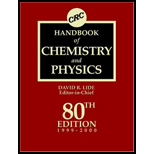 The
Handbook of Chemistry
and Physics has always provided a thorough range of critically evaluated data in a convenient, one-volume format. Over the last 10 years, revisions to the book have supported the advances in semiconductors and high-temperature superconductors; addressed environmental concerns by providing data on pollutants, contaminants, global warming, and ground water contamination; and amended pertinent data to stay current with IUPAC standards. In the last several years, the handbook has added, revised, or updated 95% of its information.
Read more details on
CRC Handbook of Chemistry and Physics
.